Fresh Juice on Tap
Follow these Tips for the Freshest Healthiest Juice
Preparing for your juice fast is extremely important if you want to get the most benefits from your efforts. Just like any endeavour, it is best to plan ahead. As the saying goes, "If you fail to plan, then you plan to fail". This applies to juicing too.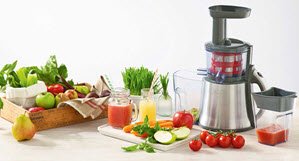 Whether you plan to juice in order to lose weight or to improve your health, here are some really helpful tips that can help you make the most gains and ensure you prepare the healthiest, freshest juices.
It is best to have an idea what types of juices you are going to consume on your juice fast. Are you going to prepare mostly vegetable, or fruit, or a mixture of both? I personally aim to use both. Green veggies like, broccoli, kale and spinach are particularly healthy and aid weight loss too.No need to go too far to find a multitude of healthy recipes. Simply download over 100 exclusive, healthy recipes by adding your name and email to the form on the right hand side or below this article.
Alway try to go for organic produce in order to produce the freshest healthiest juices. This may cost a little more from your food budget but it will reap great rewards in terms of improving your overall health.Organic fruits and veggies means less harmful toxins being entered into your body and bloodstream.That said I don't always buy organic. Whether I do or not depends on my budget and how convenient it is. Sometimes it is much easier for me just to buy from the supermarket during my weekly or monthly shop.
If you plan to consume your juice in as fresh a state as possible then you need to drink it immediately after it has been extracted from your juicer.I use air-tight containers to preserve the juice but I find even leaving it for a few hours can greatly decrease the look and taste of the juice. Apple juice for example can look disgusting when it has been left overnight. So if you can drink immediately.
Peel and chop up your fruits and veggies and immediately enter into your juicer. Again, to keep their quality it is best to use the produce as soon as you prepare in order to maintain its freshness.Most fruit and veg. can be juiced without peeling. Just make sure to scrub well with a hard kitchen brush. They only need to be chopped small enough to add through the juicing spout.I can usually add whole apples to my juicer. Occasionally they are too large and need to be halved before doing so. Water melons generally have to be chopped up;)
Lastly don't worry too much if you can't stick to the above suggestions 100%. Try your best. The most important thing is that you keep juicing. Fresh is best but 24 hr old supermarket produce from an air-tight jar – with or without the peel is definitely better than stuffing your gub with pizza and cheesy Doritos:)
Have fun and the best of luck on your juice plan.
Please leave your comments and questions below.
Click Here Now! to Discover How You Can Lose Fat in Days – AND Keep It Off. 8000 Success Stories Can't Be Wrong!