This convenient Autumn juice recipe is chock full of essential vitamins
Autumn can be the most beautiful season of the year, as the trees clothe themselves in fall colours that are spectacular and days become a little crisper. And for those looking to live a little healthier, autumn is also the harvesting season for many of the fruits and veggies used for effective juice fasting.
Seasonal juicing tips and benefits
Pack it with veg
The healthiest juices always contain substantial amounts of veggies. So, if you're looking for the ideal body detox and pick-me-up, it's a good idea to boost any fruit juicing recipes with healthy veg. This autumn, you could consider spinach, carrot, kale or purple broccoli alongside seasonal fruits such as apples and blackberries. The reason pure fruit juices are not quite so beneficial for your fasting or detox is due to their high sugar content.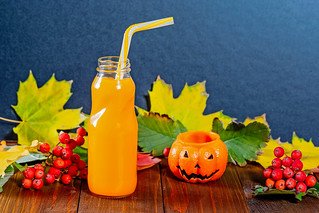 Choose local
Using seasonal fruit and veggies can also cut the cost of regular juicing as you'll save on the costs of transportation while also ensuring you're using the freshest ingredients in your daily juices.
Beat the bugs
Juice fasting and regular juicing is an optimal way to add more vitamins to your diet. This can lead to a much healthier lifestyle and really boost energy levels, which is essential as the darker mornings and evenings set in and seasonal colds become rife.
Autumn Juice recipe
We're always on the lookout for the top juicing recipes using the most affordable seasonal produce. Our quick and easy recipe for this Autumn Juice will prove a surefire winner and delicious treat for kids, friends and family.
You can add any additional ingredients you like to this healthy juice recipe, and one useful tip is to try out your juice as you make it. This will ensure it's just the right mix to suit your taste buds!
Ingredients:
Six locally grown apples
Two oranges
145g (four cups) of Swiss chard
Two sticks of locally grown celery
Recipe:
Simply wash each of the above ingredients and peel the oranges. If this produce is not organic, it's a good idea to peel apples and scrape celery. Where organic produce is used, the peel will be fine to juice, too.
Roughly chop all ingredients, then just add them to your juicer. Switch it on as long as needed, then strain your juice if you require a smoother texture.
This quick and easy recipe for this Autumn Juice will prove a surefire winner and delicious treat for kids, friends and family; and is the ideal kickstart for any juicing fast.
Sit down and ENJOY!